Prince William and Prince Harry "have a sorry tendency to dwell in the past" frustrating efforts to mend their rift, according to royal historian Robert Lacey in this Daily Mail article.
Prince William told friends he cannot forget the "merciless" way he believes Meghan Markle treated staff at Kensington Palace, the author says.
Writing in the Daily Mail, Lacey argues Prince Harry also festers over insults said about Meghan by royal relatives and the brothers do not have their mother around to "knock their heads together."
The historian, whose biography Battle of Brothers was re-released with new chapters last week, suggested friends have been trying to nudge the royal siblings towards a reconciliation.
"William's response was to nod his head in sage acceptance. Then suddenly he broke out angrily. 'But look at the way that bloody woman treated my staff—merciless!'
"Both brothers have a sorry tendency to dwell in the past, feeding off old grievances, with no mother around to knock their heads together—and a father whose priorities are set elsewhere."
According to the author, Harry is willing to acknowledge some mistakes—which would be a more conciliatory approach than in his Apple TV docuseries The Me You Can't See when he said of his royal exit: "It's incredibly sad, but I have no regrets at all."
Lacey writes: "I'm told that Harry has been telling friends he would like to reconcile, and is willing to admit some of the missteps he has made.
"Then he recalls one particular insult or other, as he perceives it, that his brother or family made against Meghan, and he flares up again—ever Mr. Combustible."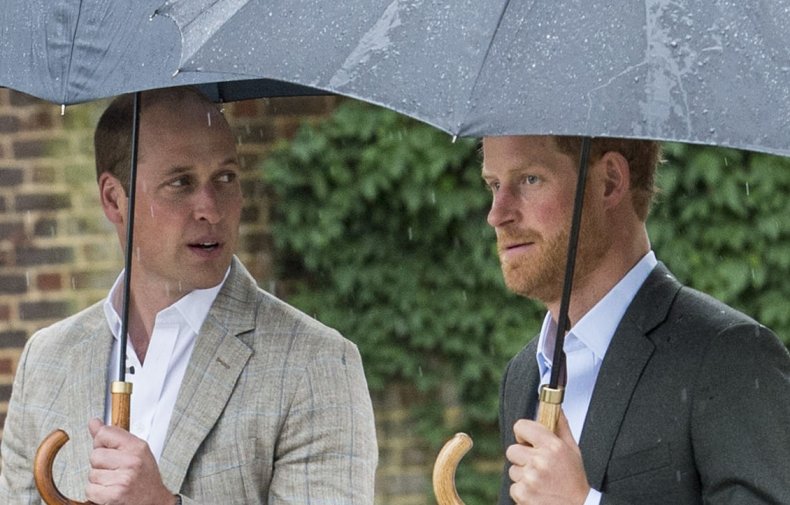 The brothers will be face-to-face again on Thursday, July 1, for the unveiling of a statue in Princess Diana's honor, to mark what would have been her 60th birthday.
Prince Harry's widely anticipated attendance was announced officially over the weekend alongside a slimmed-down guest list.
Paparazzi picture agency Backgrid got photos of the Duke of Sussex arriving at Los Angeles International Airport on Thursday evening as he set off for London's Heathrow Airport.
The prince, according to U.K. pandemic rules, will now have to isolate at Frogmore Cottage for five days before taking a COVID test, leaving only when the result comes back negative.
However, Lacey does not hold high hopes of the event marking a turning point in the fractured relationship between the two royals.
In Battle of Brothers, he describes how their was no reconciliation at Prince Philip's funeral despite footage from Windsor Castle of them talking outside St George's Chapel.
And in his article for the Daily Mail, he quoted a "long-time friend" who said they were soon arguing again: "There they were, at each other's throats as fiercely as ever. The rage and anger between those two has grown so incredibly deep. Too many harsh and wounding things have been said."
In his book, Lacey has some strong words of advice for Harry and Meghan, who he suggests have used Oprah Winfrey and biographer Omid Scobie, author of Finding Freedom, as their mouth pieces.
He wrote in Battle of Brothers: "The Duke and Duchess of Sussex will have to get a grip on themselves, for a start, to stop passing on the inside scoop of these discussions to the media.
"There can be no serious negotiations over what really matters if Charles, William or the Queen herself suspect that whatever they say when they open up their hearts will find its way back to the Sussexes' twin Os—Omid and Oprah—not to mention the gossipy Gayle [King], the supportive cast of Suits, the anonymous friends who spoke, so unprompted, to People magazine … The outlets seem endless."
Lacey added: "So please, dear Meghan, could you shut down your PR machine for just a month or so while these important matters get sorted out? [Hollywood PR agency] Sunshine Sachs, Sussex spokespeople, Archewell—give them all a holiday. They are a remorseless mechanism generating material to fill a space that does not have to be filled."
From royal expert and bestselling author Robert Lacey, this book is an unparalleled insider account of tumult and secrecy revealing the untold details of William and Harry's early closeness then estrangement. It asks what happens when two sons are raised for vastly different futures – one burdened with the responsibility of one day becoming king, the other with the knowledge that he will always remain "spare".